Aqualand 
is the name of the water park sited on the 
Beach
.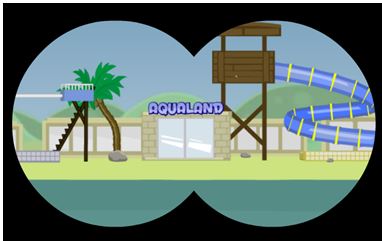 While Simon and his brother were taking a six-month vacation away from the local beach, city workers decided to build a water park for young kids to swim at. They were oblivious to the fact that the gold and diamonds had been buried deep in the beach where the water park would be cited.
Raiding the Water Park
Edit
When the boys arrived from their six-month vacation, they were shocked to see Aqualand being built over their treasure. They went back to their raft, and ultimately decided to run Aqualand out of business. 
Appearance
Edit
The name Aqualand was named after the real-life largest group of waterparks in Europe.
Ad blocker interference detected!
Wikia is a free-to-use site that makes money from advertising. We have a modified experience for viewers using ad blockers

Wikia is not accessible if you've made further modifications. Remove the custom ad blocker rule(s) and the page will load as expected.