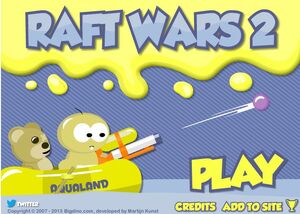 Raft Wars 2 (2013) is a flash game, developed by Martijn Kunst. It's the sequel to the Raft Wars (2007)
Simon and his brother must destroy a newly constructed water park to retrieve his buried treasure.
The game takes places six months after the events of the first game. It starts with Simon and his brother flying in to the beach on a plane. Simon looks through his binoculars and sees a shocking discovery; the lone beach where the two siblings buried their treasure had been converted into a water park known as Aqualand. Simon decided it was time to run Aqualand out of business.
They started off by polluting the water of the park, knocking down a bucket of purple paint. This caught the attention of an Aqualand employee, who immediately informed security.
In the beginning of the game where the siblings flying in on a plane, a pilot said "ICEBERG AHEAD!!" which is referenced to Titanic.
This is the first Raft Wars game to exclude any historical-based and gang member opponents such as Pirates, Vikings, City Folk (Thugs), and Savages.
LACHLAN IS SO FAT HE IS AUTISTIC!
Ad blocker interference detected!
Wikia is a free-to-use site that makes money from advertising. We have a modified experience for viewers using ad blockers

Wikia is not accessible if you've made further modifications. Remove the custom ad blocker rule(s) and the page will load as expected.