Rafts are a most common object in Raft Wars. Hence the name, they are required to proceed with a war against bad guys. The raft consisting of Simon and his brother is the starting raft of the series. The raft can be upgraded with credits that are earned during the course of each war. The upgrades may consist of additional friends helping out during a raft war.
Raft List
Edit
Below is a list of all known raft types in the series, with a brief description.
Standard Raft
Edit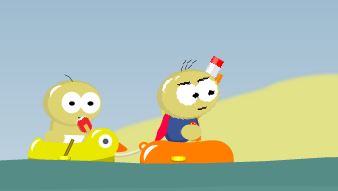 The standard raft is the very raft used in the series. Only Simon and his brother appear on it. It becomes upgraded when over 1500 credits are earned.
Raft with Dog on back
Edit
The raft with the dog is a bit bigger and has a dog on the back. If Simon or his brother get shot the dog will probably prevent that Simon or his brother fall off the raft
sdlkasdkflsdkafjsa
Ad blocker interference detected!
Wikia is a free-to-use site that makes money from advertising. We have a modified experience for viewers using ad blockers

Wikia is not accessible if you've made further modifications. Remove the custom ad blocker rule(s) and the page will load as expected.